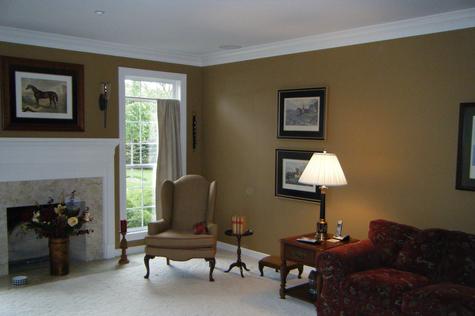 Exterior painting:

We use all the same brands as we use on interiors. We paint wood, metal, vinyl and aluminum siding. What is most important here is the preparation. Using good ole elbow grease to scrape off loose, or soon to be loose paint followed by a prime coat using Zinnser brand Cover Stain oil-based primer. This primer is highly effective.


Balcony restoration:

Wood needs to be cleaned properly and that includes power washing after using Sherwin Williams deck wash and revive to get the gray out which is mold particles. Using a proper cleaner cleans the wood rather than just bleach it. This will leave it closer to the natural color before applying stain. Our preferred stains are Flood and Rymar carried by Sherwin Williams and far superior to their Woodscapes product. Only certain stores carry this stain and it is a bit more expensive, but worth it.


Balcony restoration:

Metal railings are usually rusting when we are called. We remove as much rust as possible using grinding wheels and sanding wheels on drills. The railing is cleaned with a rag lightly moistened with thinner prior to a prime coat of the best rust primer on the market, Rust Destroyer. We usually prime the whole railing prior to the final coat of Sherwin Williams Industrial urethane enamel. We will provide a one or two year rust free warranty depending on the situation.


Carpentry:

Along with the usual trim and soffit wood replacement, we also do balcony repairs and replacement. All new wood will be primed on all six sides before installation with an oil-based primer.


Power washing:

We use a 2800 PSI power washer being extra careful near windows and around belongings.


Gutter cleaning:

Done by hand if gutters are filled with dirty leaves and water.

Interior painting

: We use Sherwin Williams, Benjamin Moore, Pittsburgh Paints and Valspar. Certain brands have products that we consider better than their competition, so we use what product or brand fits that particular situation. In other words, we use all of these brands depending on the need.


Drywall:

We not only install drywall, we can tape and patch to a smooth finish, prior to a prime coat and one or two final coats. We do repairs as a result of roof leaks along with patching cracks and other blemishes.


Staining

: Interior staining has to be done in multiple steps with tack cloth cleaning and light sanding in between to assure a nice even and smooth finish.


Trim carpentry:

We do baseboard trim, chair rail trim along with installing closet and room doors. We occasionally do some remodeling, but try to not stray from our specialty of painting and related items such as a baseboard or chair rail.


Wallpaper removal:

Never an easy process, we use DIF wallpaper and paste remover. We are careful to use towels and drop cloths everywhere to keep the floors dry from the water used to remove the paper. After removal we clean off the paste, then prime the entire area to be certain there are no problems with any light paste residue left as this can cause the paint to crack in a spider web like formation. The oil based primer makes certain this will not happen.